Celtic Saints names beginning L-N
LALLUWY, MENHENIOT
The parish church in Menheniot, Cornwall is dedicated to St Lalluwy and the holy well a few metres away, yet little is known about this saint.
LAMMANA CHAPEL
Lammana Chapel is between West Looe and Talland.
There's a chapel on the island previously known at Lammana island, now called Looe Island and this is Celtic. There's another on the land opposite it. Not much is known except there was a Celtic community there. There is a legend that Joseph of Arimathea brought Jesus to Cornwall whilst on a tin expedition and put him down on the beach furthest from shore
LEVAN:
Male
St Levan near Land's End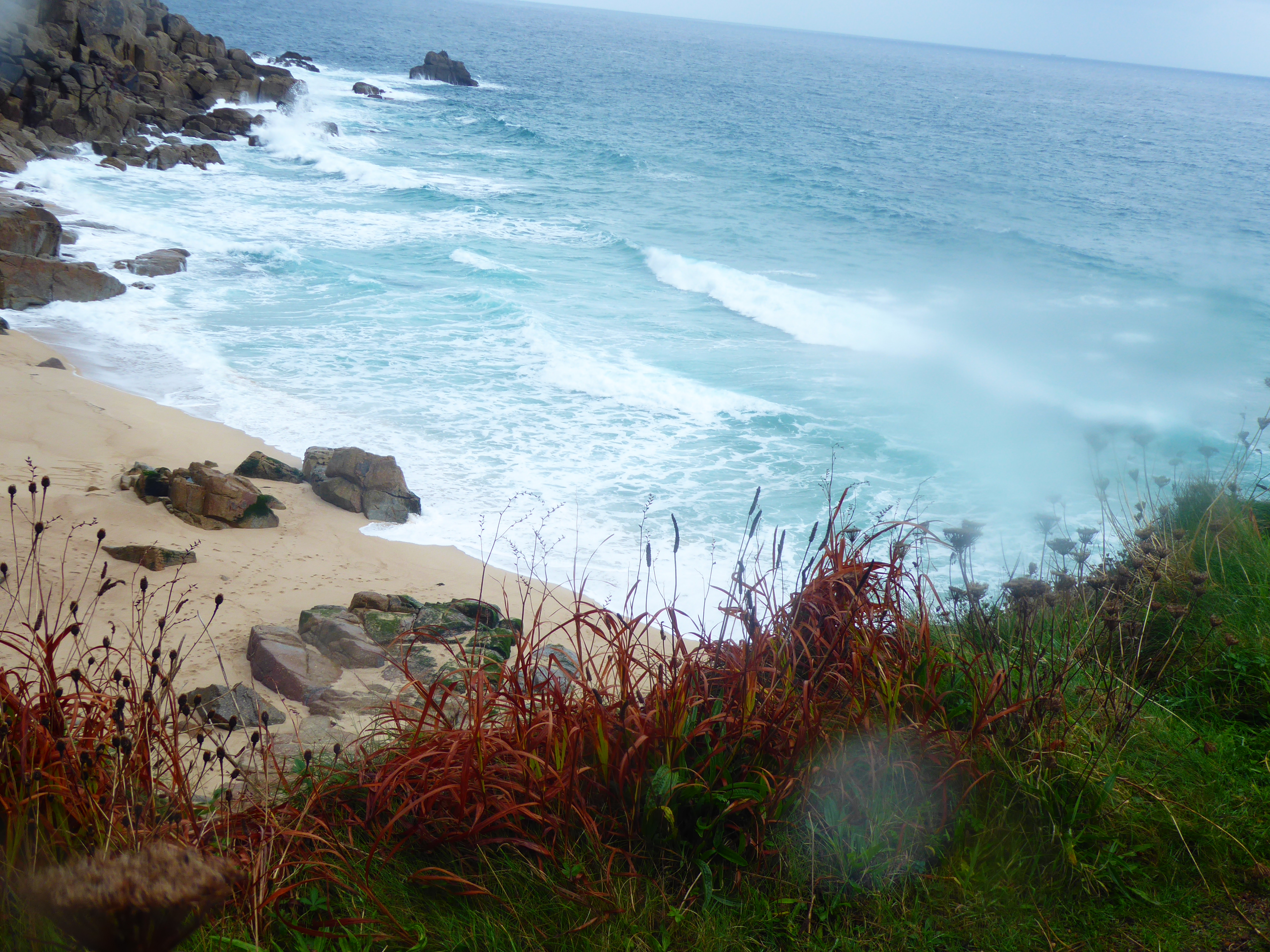 Levan had been fishing and was resting on a rock near the church. Before he died, he split the rock with his fist and prophesied that if a packhorse with panniers could go through the split the world would end.
LUWDEGRAN:
Male
Ludgvan
Not much is known about him but if you baptised in his well you could be saved from hanging. There are 3 crosses in the churchyard. There used to be a medieval pilgrimage route from Ludgvan to St Michael's Mount. It's known there were still wolves in the area, and they did kill children.

MATERIANA:
Information in the church at Minster near Boscastle says Materiana was originally known as Madrun or Madryn. 'She was born around 440CE and grew up on the Lleyn Peninsula in north Wales. As a girl she was inspired by a dream to found a church at Trawsfynydd (St Madron's) which is one of three churches dedicated to her. She married Ynyr of Gwent and had several children. According to legend, her son Caradoc was one of King Arthur's Knights of the Round Table. Another son, Ceidio, became a saint.
In the latter part of the 5th century, the native Britons rose in rebellion against the ruling classes. Madryn and her family escaped to her grandfather's fortress in Caernarvonshire, but the castle was besieged and her husband killed. Madryn fled from Wales. In one version of her story she took Ceidio with her. In another, she was accompanied by two companions, Marcelliana and Juliot. (Note St Juliot's church is nearby, though associated with one of Brychan's children. The same Juliot? Who knows it's lost in the mists of time).
Taking to the seas, Madryn sailed into Boscastle's natural harbour in the early 6th century. No doubt captivated by the beautiful surroundings, she followed the Valency River on foot through the wooded valley to an ancient spring or 'holy well'. Here she settled and lived the life of a hermit, healing people with prayer and water from the sacred spring, or holy well.' (Credit to information board in St Materiana's church).
Her body was buried under the chancel of what is now the present church but was sadly desecrated during the reformation.
MAWES:
Irish male
St Mawes on the Roseland
He was the 10th son of an Irish king and is revered in Brittany. Legend has it that a noisy seal was disturbing him. He threw a large rock at the seal but missed it. The rock fell and wedged on top of Black Rocks in the harbour at St Mawes. His stone chair is still preserved in the wall of a house in St Mawes.
MAWGAN:
Welsh male
St Mawgan nr Newquay
A Welsh bishop and associate of Cadoc and Breock. He founded a monastery at St Mawgan and a holy well which is still there inside the lych-gate of the church. He preached here and baptised people. There are 4 Celtic crosses in the churchyard.
MERRYN (Morwenna):
Welsh male
St Merryn, Harlyn Bay
He was a 6th century nobleman who became a missionary priest. He studied at Bangor in Wales and then moved to Brittany. He is associated with Cadoc and had a chapel and holy well near Harlyn Bay. Cadoc was thirsty after a pilgrimage to St Michael's Mount to visit Keyne (his aunt) and he struck the ground. A spring came up and it was known to cure intestinal worms.
MEWAN:
Male, Welsh
St Mewan village near St Austell in Cornwall
St Mewan was a Welsh Celtic Christian thought to have been born in 540AD and died 617AD. His family were wealthy nobles, relatives of St Sampson of Dol. Mewan and his close friend Austell followed Samson to Cornwall where they all founded prayer communities. Mewan and Austell settled about three miles apart. St Austell town and St Mewan village still bear their names. They both left Cornwall eventually, following Samson to Brittany where Mewan was given land to found a couple of monasteries. The two remained close friends and died just a week apart from each other. His holy well still exists in St Mewan.
MICHAEL: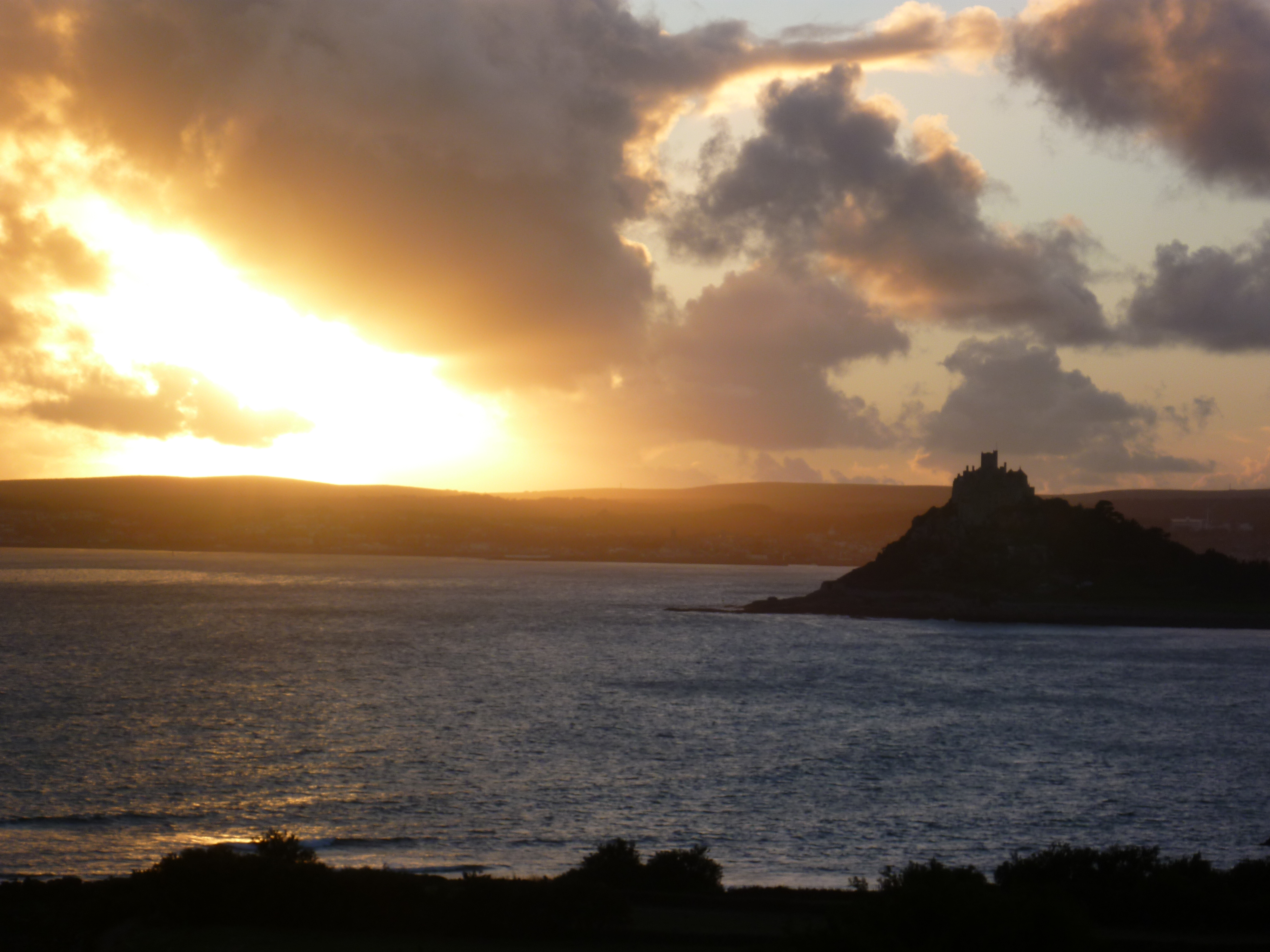 St Michael's Mount
Mitchell
In the year 495AD fishermen in Mount's Bay had a vision of Archangel Michael. He told them to build a sacred place/space and he would save them from danger. This was the beginning of the building on St Michael's Mount.
Pilgrimage routes were established overland: St Ives/Carbis Bay overland to Ludgvan, Crowlas, Gallon and then Marazion and St Michael's Mount
St Michael's Mount is believed to be part of the lost Kingdom of Lynonesse. It was originally surrounded by forest not sea. St Michael is depicted as killing a dragon.
St Keyne one of Brychan's daughters lived on St Michael's Mount.
MINVER:
Welsh female
Tredizzick
She was a daughter of Brychan and had a hermitage, chapel and well at Tredizzick. The devil attacked her while combing her hair, so she threw the comb at him and he ran away.
MYLOR
Associated with the village of Mylor on the south Cornwall coast. He came from Brittany in the 400s AD and was martyred in 411. It is thought he was buried on the site of the existing parish church where he founded his community.
NECTAN:
Welsh male
St Nectan's glen
The first born of Brychan. He was inspired by the Egyptian desert father hermit St Anthony. When Nectan was martyred he picked up his head and walked to a spring. One of his murderers buried him having witnessed the martyrdom and miracle. All Brychan's children met at Nectan's hermitage at Hartland, Devon yearly.
It's thought he also spent time at St Nectan's glen in Cornwall having a hermitage above the waterfall. In 937AD on the eve of the battle of Brunanburh he healed a young man with plague, appearing to him in a vision, and laying hands on his afflicted body. Miracles happened at the place of his martyrdom.
NEOT:
St Neot near Bodmin Moor
He was a dwarf who was only 15" tall. He would hold his devotions up to his neck in water and moved in miracles especially on animals and birds.
NIVET:
Welsh female
Lanivet
There are 10 Celtic crosses in the parish, and she is a daughter of Brychan
NONNA:
Welsh
Female
Nonna (Non, Nonita) was the mother of St David the patron saint of Wales and lived in the 5th century AD in Pembrokeshire, Wales. There are several variations to her story but the main one is that she was raped by a local King, Sanctus and had David as an unmarried mother. The birth was so traumatic that her nails marks were visible on the rocks where she was in labour. This rock then became part of the foundation of the church's altar which was built on the site, now known as Capel Non. She was celibate before the rape and remained celibate afterwards.
She was known for her asceticism living off bread and water once she conceived. There were indications that David was to be special even whilst he was still in the womb. Whilst pregnant, a local preacher was unable to preach in Nonna's presence and it was taken that the baby would be a great preacher. A local ruler also heard about the child and fearful of his power, planned to kill him on birth. However, the night David was born there was such a violent storm that it proved impossible to travel outdoors.
Later she travelled to Cornwall where she is known in several places, but especially Altarnun (the altar of Non) and Pelynt (the place of Non) where she has holy wells and churches grew up around the prayer settlements. She is the sister of St Wenna and aunt of St Cuby. She then travelled across to Brittany. It's possible she died either there or in Cornwall.
Explore More
Comments