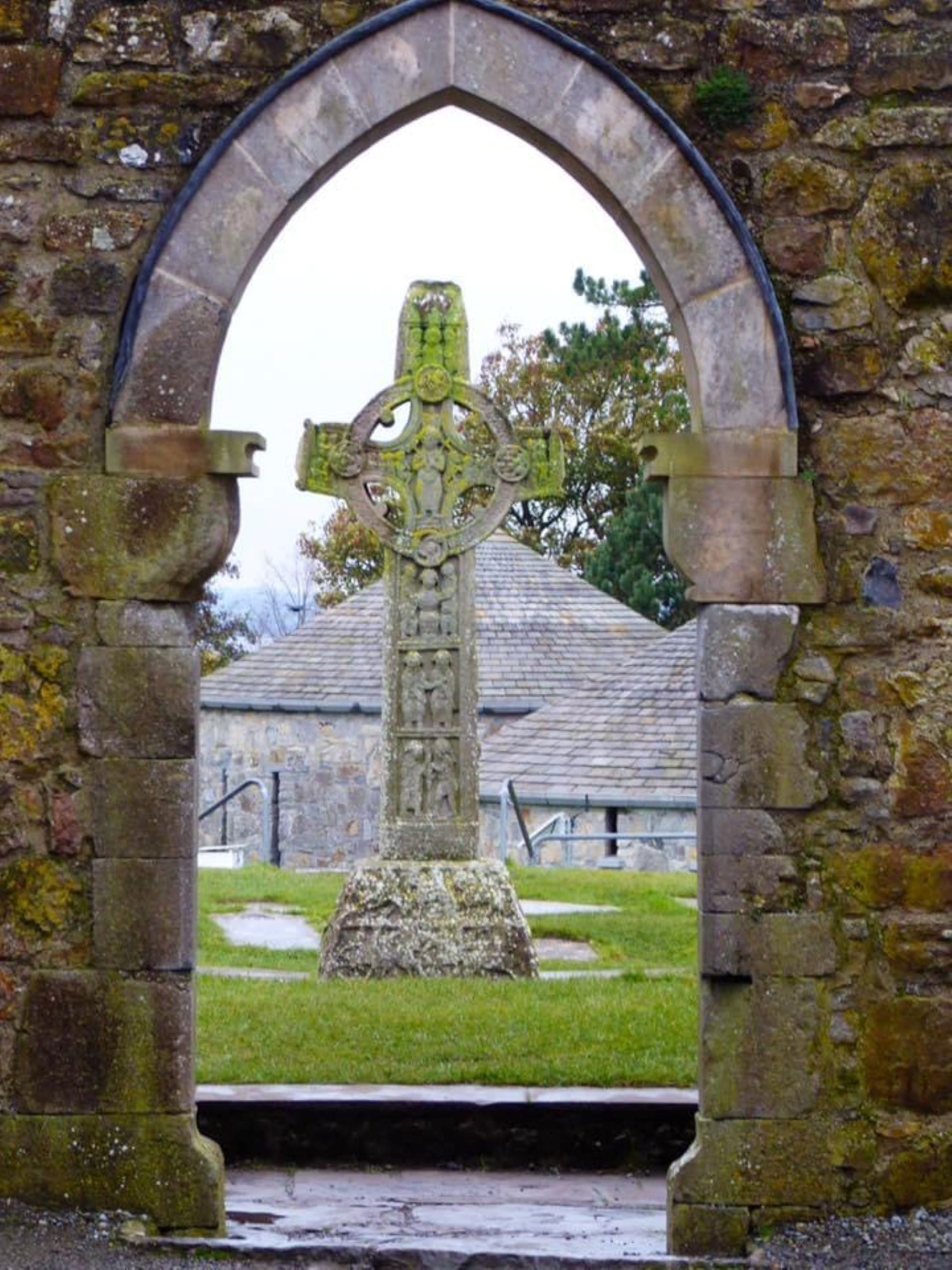 Celtic saints name beginning with P
PAUL AURELIAN
Welsh male
Paul in Cornwall
St Pol de Leon, Brittany
Paul was born around 495AD in South Wales and was descended from Roman nobility. He was educated at Llantwit Major with Illtyd and his contemporary companions included David, Gildas and Samson. He lived as a hermit in Llandovery, after being ordained spending many years in isolation. However his piety drew followers and with increasing followers he founded a monastery at Llanddensant below the Black Mountains.
He eventually left Wales with 12 disciples and travelled to the court of King Mark in Cornwall, probably at Castle Dore near Golant. He then travelled to his sister, Sitofolla's home near Newlyn over looking Mounts Bay. St Michael's Mount was not an island at this point but a rocky outcrop in a forested area. In the middle of the forest, by Gwavas Lake, he helped his sister build a small chapel. When the sea encroached the chapel was abandonned and rebuilt on the hill in the village now called Paul.
Paul and his companions travelled on to Brittany where he built a monastery at Batz. The local people soon asked him to become their bishop and he was consecrated at Leon. The town is now known at St Pol de Leon. The life of St Pol de Leon was written in 884AD.
PETROC:
Welsh male
Little Petherick nr Padstow
Padstow on north coast of Cornwall
Trebetherick
Bodmin
Bosvenegh or Bothmena
Blable
Treravel Farm on Bodmin Moor
The locals wouldn't give him water, so he tapped the ground and a spring opened up. The locals were converted. He was born in southern Wales in the 6th century to a prince and was Cadoc's uncle. He ministered to Britons in Devon, Somerset, and Cornwall.
He was a strict ascetic eating only barley bread and drinking water. He also had pulses on Sunday. He believed in hard labour and acts of penitence. He would stand for hours up to his neck in water at Little Petherick reciting the Psalms. He didn't use oxen but the monks themselves ploughed the land. He was initially vegetarian but abandoned this later.
He believed in spiritual warfare and the power of evil. He rid the land of an enormous serpent which was kept to punish criminals by the late King Teudar.
He had an affinity with animals.
He was educated for 20 years at an Irish monastery. Then he set out with companions in coracles to evangelise. His companions were
Croidan (Credan)
Medan
Dagan (Dachan, Dechana ) female
They landed at Trebetherick nr Polzeath in 518AD and seemed to take over Gwethinoc's mission in Padstow and the name changed from Lanwethinoc to Petroc's Stow. He established a monastic cell, school, library, infirmary, and farm around the present church in Padstow.
He also had an oratory and mill at Nanceventon nr Little Petherick Church
He had a third settlement which was a small hermitage at Bosvenegh or Bothmena – the dwelling or abode of the monks. He was building on the mission of Sampson and Goran and it became Bodmin. It seems he was directed by an angel to leave Padstow and travel into the remote wilderness of inland Cornwall. Here he found the hermit Guron who was both hard working and prayerful. Petroc asked to stay with Guron and they fellowshipped together before Guron left to found a new cell further south at Gorran Haven, leaving Petroc at Bodmin. He went on to establish a monastery of great repute. There's nothing really remaining of the monastery except the holy well but it was thought to be on the site of the current St Petroc's church. Interestingly the holy well on the same site is known as St Guron's well, showing the interlinking of the two men. Petroc is thought to have converted King Constantine of Cornwall to Christianity after sheltering a stag he was hunting in his prayer cell. The king was enraged by Petroc but became paralysed and was only released from the paralysis when he repented, which he did and became a Christian. As a result the land for the monastery was given to Petroc as a gift.
Later he travelled to India and spent 7 years on an island fed by a single fish. He also tamed a wolf at Blable which means wolf pit, farm
He removed a splinter from a dragon's eye.
He had an isolated hermitage on Bodmin Moor where he died on 4th June 564 at Treravel Farm. The spring on the farm is said to cure sore eyes and internal illnesses.
PIALA:
Irish female
Phillack
Sister of Gwinear and daughter of Clito. She landed with other missionaries and was martyred by King Teudar. She was a virgin. Her holy well is at Phillack church
PIRAN: (Kieran)
Irish male
Perranzabuloe
Perranporth
Perranuthnoe
Perranaworthal
Perranwell
Penhale sands
Probus
Piran is the patron saint of Cornwall. His flag is the Cornish flag, a white cross on a black background. Legend has it he discovered tin by heating his black hearthstone which had tin bearing ore. The tin melted out and rose to the surface forming a cross, hence the white on black.
He is a famous 6th century Irish saint and is perhaps the Ciaran who founded the monastery at Clonmacnois, although he is also identified as Ciaran of Siaghir. He is buried at Perranzabulo with Martin the Abbot who was also Irish. His body was exhumed for relics and used in reliquaries.
Legend has it that he was tied to a millstone in Ireland and rolled off a cliff edge into a stormy sea. Immediately the sea became calm and the millstone floated him across the sea to land at Perranzabuloe.
He showed an affinity to animals and it's said his first converts were animals, a badger, fox, wolf, doe, and bear.
His original community were jealous of his powers of healing and miracles.
He arrived at Perran Beach, had a chapel at Penhale Sands. A very tall skeleton was discovered in the church.
Comments